We recently sat down with ACELYRIN CEO Shao-Lee Lin, MD, PhD and President and COO Bob Carey to talk about the company's strategy, upcoming milestones, and its intense focus on patients.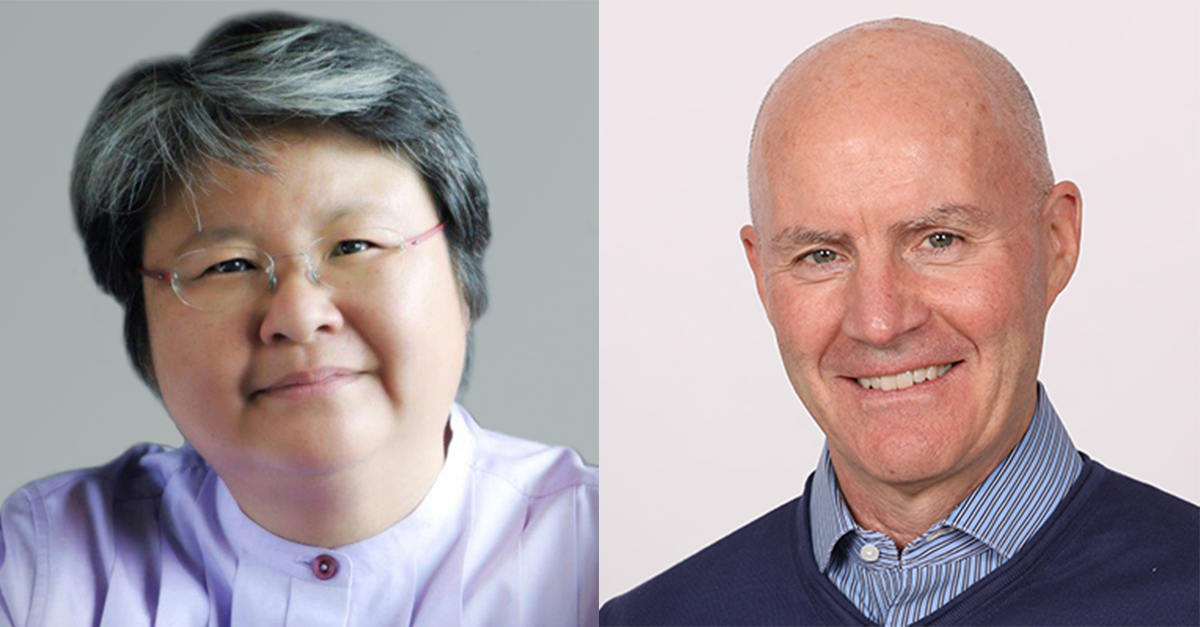 Q: Why did you form ACELYRIN, and what do you plan to achieve?

Shao-Lee: The patient is at the center of the formation and mission of ACELYRIN. Our overarching goal is to provide life-changing new treatment options to patients by identifying, acquiring, and accelerating the development and commercialization of promising drug candidates.
We're looking for clinical-stage programs where we can apply our expertise and professional network to access capital and build infrastructure so we can rapidly grow a standalone biopharma company. When we find the right opportunities, we will be poised to quickly build our organization to a critical mass level.
Bob: Ultimately, we aim to build a long-term, sustainable, "patient first" biopharma company with a pipeline that has the potential to be truly meaningful to patients with serious diseases. That means building a company all the way from R&D to commercialization.

Q: What programs and therapeutic areas interest you?

Shao-Lee: Our licensing and acquisition search process is currently directed within immunology. However, we will be opportunistic if the right drug candidate comes along. We are open to platforms, programs and products with compelling science or data, particularly if they are at the clinical stage.

Q: Since launching ACELYRIN in December 2020, have you identified or acquired clinical-stage assets?

Shao-Lee: We are beyond the technical due diligence stage with several programs. I am encouraged about what has happened to date and am feeling good about the likelihood of closing on one or more programs in 2021.
Bob: Then comes the challenge of financing these assets, which is a separate and distinct effort. The market has been very buoyant, so there's a lot of capital that has been available. We hope to take advantage of that investor sentiment as we develop our candidates and grow the company.

Q: How will you develop promising, clinical-stage drug candidates?

Shao-Lee: As we develop new medicines, it's critical to understand our business partners' needs and how to work with them to create win-wins while being focused on the goal of making a major difference in patients' lives. We will target difficult disease areas where there is tremendous unmet medical need. These are seldom the lowest hanging fruit, but if we identify the opportunity to make a difference, then it's the right thing to do.
With our Big Pharma and biotech partners, we aim to develop efficient and ongoing collaborations to advance promising drug candidates that may have otherwise languished for various reasons. We often see situations where molecules have not been moving forward due to shift in strategy, for instance, where we can help move them forward aggressively and robustly by bringing both capital and expertise to the table.
With academia and early-stage companies, we can complement their typically rich scientific expertise with our development and commercialization experience and access to capital.
In my Big Pharma career, I have worked on many transformative multibillion-dollar drugs that have made big differences to patient populations. That doesn't happen in isolation. It happens over time, and with scores of incredibly talented people all contributing, including patients who contribute their time and beliefs and their faith in doing something good. It also takes health authorities and patient advocacy groups and all of us as a community to make these things happen. At ACELYRIN, we bring to the table, our breadth and depth of experience in working with these groups to advance new medicines.
Bob: Having been involved in evaluating biopharma companies and drug development programs for 30 years, I've encountered a rare group of people I call, "true drug hunters." Shao-Lee is in that unique category. She knows how to integrate the multiple elements needed for success, including biology, chemistry, development and regulatory strategy, as well as knowing where a drug should fit in the marketplace and how it's going to add value relative to existing therapies.

Q: Where do you see ACELYRIN in the next two years?

Shao-Lee: We aim to build our portfolio by acquiring or licensing two or three clinical-stage programs. Right now, we're developing a world-class team and leveraging our network of relationships to help accomplish this.
Bob: In addition, we will also sufficiently capitalize the company so we can run hard and fast in the development of those programs.

Q: You have chosen to base your company in Los Angeles, with operations in the San Francisco Bay area. What drove that decision?

Shao-Lee: We chose Los Angeles are as our primary location for several reasons. It's rapidly becoming a major biotech hub and is an emerging economic engine for the region. We're seeing an explosion of new startups in the area, there is a large talent pool, we have access to world-class academic institutions, the cost of building a company is significantly less here, and the lifestyle is appealing. As ACELYRIN grows, it will contribute to the growth of the industry group in the Los Angeles area. Having a Bay Area location enables us to easily access talent and capital there.